The Airport Standards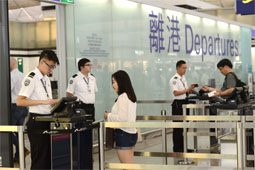 The Airport Standards Division of the Department is responsible for the licensing, regulation, inspection and monitoring of the safety and security standards of international aerodromes, including heliports, in Hong Kong. The work involves:
establishing aerodrome licensing standards and issuing licences for aerodromes;
establishing and maintaining a system for monitoring the performance of aerodrome licensees in the areas of aerodrome safety and aviation security;
monitoring the safety procedures and practices in respect of the operation of the Hong Kong International Airport (HKIA);
ensuring compliance with the Hong Kong Aviation Security Programme and provisions of the Aviation Security Ordinance (Cap. 494) and its subsidiary legislation;
liaising with foreign and local authorities on matters relating to the handling and sharing of threat and security sensitive information for compliance with the Standards and Recommended Practices set by the International Civil Aviation Organization (ICAO);
implementing audit and inspection plans to monitor the execution of security programmes by airport operators, airline operators, tenant restricted area operators and regulated agents;
enforcing the Hong Kong Airport (Control of Obstructions) Ordinance (Cap. 301) and subsidiary legislation;
monitoring the carriage of dangerous goods by air through inspections, and keeping up-to-date and enforcing the Dangerous Goods (Consignment by Air) (Safety) Ordinance (Cap. 384) and its subsidiary legislation;
enforcing the Air Navigation (Flight Prohibition) Order (Cap. 448E); and
monitoring the demand for helicopter services and facilitating the operation of such services and heliport development in Hong Kong and the rest of the Guangdong-Hong Kong-Macao Greater Bay Area (Greater Bay Area).