To comply with the Global Implementation Plan of the International Civil Aviation Organization (ICAO) for the satellite-based CNS/ATM systems, a special and dedicated project team was set up in January 2000 to work on the transition from the terrestrial-based to the new satellite-based systems.
Given the scale and complexity of the CNS/ATM systems, the project will be implemented in three phases as follows:
Study Phase - Systems Study and Analysis (1999-2013)
Trial Phase - CNS/ATM Trial and Evaluation (2000-2018)
Implementation Phase - CNS/ATM Implementation and Transition (2001-2025)
To facilitate the progress of the project, a Hong Kong CNS/ATM Committee was set up in March 2000. Chaired by CAD, the Committee comprises representatives from CAD, International Air Transport Association (IATA), International Federation of Air Line Pilots' Associations (IFALPA), Cathay Pacific Airways (CPA), Hong Kong Observatory (HKO) and telecommunications services providers. The meeting discusses, reviews and coordinates among the stakeholders on various issues relating to the study, trial and subsequent implementation of the CNS/ATM systems in Hong Kong, China.
Detailed investigation work on the various elements of the CNS/ATM systems has commenced. Trials on the following CNS/ATM systems have been completed satisfactorily and put into operational use :

- Digital Automatic Terminal Information Service (D-ATIS) and Digital VOLMET (D-VOLMET)
- 2-way Pre-Departure Clearance (PDC) delivery via data link
- Aeronautical Telecommunications Network (ATN) link between Hong Kong and Bangkok, which was the first of such link put into operational use in the Asia and Pacific Regions
- Air Traffic Services Inter-facility Data Communication (AIDC) between Hong Kong and Sanya
- Advanced Surface Movement Guidance and Control System (A-SMGCS) for airfield surveillance at the Hong Kong International Airport
- ATS Message Handling System (AMHS) for exchange of aeronautical and meteorological information between Hong Kong, China and Macao, China, the first city-pair in the Asia and Pacific Regions operating AMHS

Evaluations and/or implementation of other CNS/ATM systems and new technology such as Electronics Flight Strip System, Global Navigation Satellite System (GNSS), Performance Based Navigation (PBN), Automatic Dependent Surveillance-Broadcast (ADS-B) system, etc will be conducted in line with the ICAO CNS/ATM implementation plan.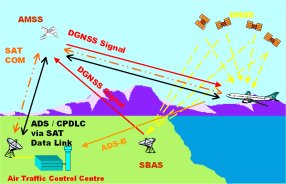 Satellite-based Communications, Navigation and Surveillance/Air Traffic Management (CNS/ATM) System - En-route Operation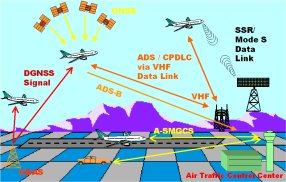 Satellite-based Communications, Navigation and Surveillance/Air Traffic Management (CNS/ATM) System – Approach/Landing Operations